Connected Corridors is strategically and systematically lowering the barriers to wide spread Integrated Corridor Management (ICM) in the following areas:
Funding
Regional: The CC team secured regional funding through LA Metro's Call for Projects in 2015. Since then, we have established a method for Caltrans to manage regional funds that is approved for use throughout the state.
State: The CC team worked with the legislature to develop and secure funding for "Congested Corridors" initiatives through SB1. We have also worked with the legislature to define standards for approval.
Stakeholders: Early in the planning process, Caltrans secured funding for the Pilot through the State Highway Operation and Protection Program (SHOPP).
Grants: Caltrans has further shown their commitment to the project through the pursuit of various grants including the Advanced Transportation and Congestion Management Technologies Deployment (ATCMTD) program and FHWA's ICM Deployment Planning grant.
Inter-agency Agreements
The website also provides detailed explanations of how to do outreach and engage stakeholders so that agreements are easier to secure.
System Engineering Documents
PATH has generated high-quality documents which can be used as templates.
The documents are specifically organized so regional and local descriptions can be inserted.
System Integration and System Components
The CC team is planning and developing all of the major components of an ICM that will seamlessly integrate. Major components include:

Signal Control and Asssociated Data Acquisition Systems (McCain, Kimley-Horn, Transcore)
Arterial Wayfinding Control Systems
ICM Central System (Kapsch, Parsons, Telegra)
Data Hub
ATMS- Ramp Metering, CMS Signs, Loop Detectors

The CC Program has defined TMDD standards for the exchange of data between these systems.
We are in the process of funding upgrades to a number of the systems to ensure interoperability.


Data Quality Standards
The CC team has defined data quality standards for arterials and freeways.
We have defined procedures and tools for use for determining data quality.
We have open source tools that can use data routinely provided by traffic signal vendors and by Caltrans' Performance Management System (PeMS)
Response Plan Development
The CC team is developing response plans in a very systematic way and ensuring the process is accurately documented for other districts and agencies to leverage our lessons learned.
We have a standardized response plan format; defined and detailed in TMDD.
Caltrans and PATH provide a free Response Plan Generator Tool for building response plans and displaying them in multiple formats. The plan is to eventually make this tool, and others, open source for use in other corridors.

Skills, Training, and Organizational Structure
Detailed system requirements including institutional requirements and performance metrics for every requirement.
Extensive work done to develop knowledge, skills, and abilities (KSAs) document and ensure future positions align with needs of the Pilot.
Focused on growing expertise in data analytics, 'light' software, traffic modeling, and interpersonal & outreach skills.
We're developing new course descriptions for UC Berkeley and overall workforce strategies.
Organized so other Caltrans districts and agencies can tailor them to their project.
Lead Agency Standards
Caltrans is aggressively leading the ICM effort and supports the Connected Corridors Program, Pilot, and vision.
Caltrans reorganized District 7's Division of Traffic Operations around corridor management and transportation system management and operations (TSMO).
Caltrans developed a website to provide all of their districts with information on the CC Program. This site will soon be unveiled to their employees and eventually made public. Much of the information is currently available on the I-210 Pilot website.
Ecosystem of Consultants and Vendors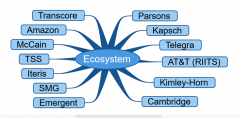 We're developing a solid, unified ecosystem of consultants and vendors to support ICM.
Vendors are a part of the team and discussions as to how to make the Pilot successful.
Proof of concept for Corridor Management System (CMS) engaging three vendors to collaborate on developing a viable system and product for wide-spread use.


Accessibility, Scalability, and Deployability
We're using the Amazon Cloud to improve scalability.
Our website contains a wealth of information on the Pilot and the processes we are using making the information easily accessible to other interested organizations.
Documents are prepared with accessibility, scalability, and deployability in mind.