Caltrans District 7 Offices, October 25, 2016

PATH hosted an Analysis, Modeling and Simulation (AMS) workshop with stakeholders to present the traffic simulation model in its current state. Over 30 stakeholders attended the meeting.
---
UC Berkeley PATH Offices, October 2015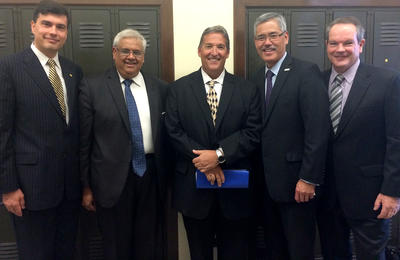 Assembly Member Jim Frazier (center) visits PATH and the Connected Corridors team. Pictured here (from left to right) with Institute of Transportation Studies (ITS) Director Alexandre Bayen, College of Engineering Dean S. Shankar Sastry, Contra Costa Transportation Authority Executive Director Randell Iwasaki, and PATH Co-Director Tom West.
---
IPAM Workshop at UCLA, October 2015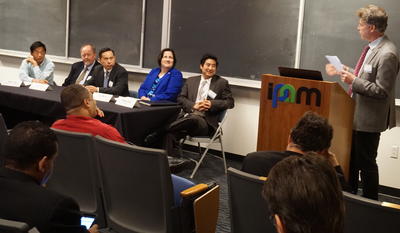 Several members of the I-210 CC Pilot team presented at a one-day IPAM workshop titled "Advancing Traffic Control through Big Data and Connectivity." Allen Chen and Samson Teshome presented during the session, and Fred Dock, Steve Gota, Alan Clelland, Jane White, and Edward Yu participated in the panel discussion.
---
Southern California Association of Governments Joint Committee Meeting, April 2, 2015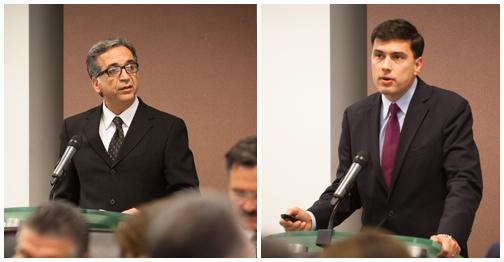 Ali Zaghari from Caltrans District 7 and Alex Bayen from UC Berkeley's Institute of Transportation Studies (ITS) present information on the I-210 Connected Corridors Pilot and Caltrans' role in transportation operations. You can also view slides from the entire presentation, with Mr. Zaghari's slides beginning on page 31.
---
Institute of Transportation Studies (ITS) Library, July 11, 2014
The Connected Corridors team meets with other ITS research centers to collaborate and connect on current and future projects.
---
 Connected Corridors "All Hands" Meeting, Institute of Transportation Studies Library, July 7, 2014

The team comes together for project updates, questions/answers, and the opportunity to develop new ideas as a group.
Save
Save
Save